Approval of absences
If an employee requests an absence, the system automatically creates an absence approval request.
The approver can find this request in the request panel in Pinya HR (the bell icon on the main top bar)

and will also receive an automatic e-mail notification for it.
Until the absence request is processed, the approver's system alerts the pending absence every day. At the same time, a notification about a pending request will be displayed on the requests panel in PINYA HR.
If the approver does not approve the absence by the day of the planned absence, the request will be automatically rejected and deleted.
Processing of the application
To process a request, go to the request panel. Click the Detail button for that request. You can also use the link in the email notification, which will take you to the details of the request.

The request for absence includes:
Period of planned absence
The number of days of a given type of absence used this year
Delegate of the employee during the absence
Message for approvers
Information about other absent employees in the given period.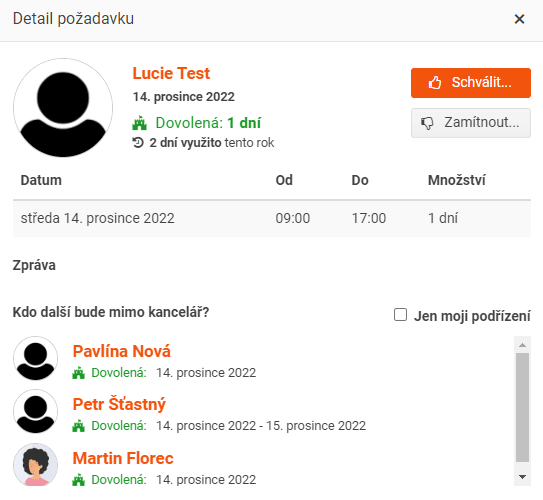 You can approve or reject the absence request.
After approving or rejecting the absence, the system will automatically send a notification to the employee and the recipient of the notification. The following notifications will also be sent to the recipient of the notification:
Absence deleted
Absence edited
The employee's delegate and the absence approver will also receive these notifications. The approver and recipient of notifications can be the same person.
---
---